THE KINGDOM AND THE HISTORICAL FALCONS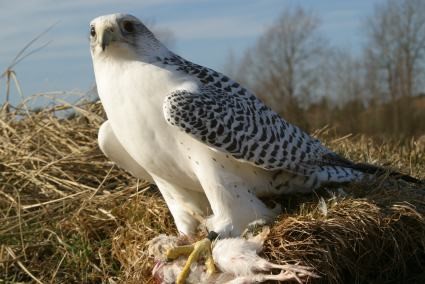 White Gyrfalcon at Eagleworld
THE KINGDOM AND THE HISTORICAL FALCONS
The interest in dealing with birds of prey and falconry is today more widespread throughout the world than ever before. This is also the case in Denmark where there is great popular interest and support. It is because of Frank Wenzel that this possibility is actually available. Thus the Parliament's Committee for Environment and Planning visited Eagleworld in 1993 to listen to Frank Wenzel's arguments during the drafting of a new hunting law.
This led to a positive outcome for both the birds of prey and bird friends' future in Denmark - and these arguments are the reason why it is possible to keep birds of prey in Denmark today. As early as in 1964 Frank Wenzel had, with great media attention, revived falconry after a 200-year break. This happened at Grib skov in North Zealand where 2 saker falcons from the former Yugoslavian Republic were introduced to the art of cooperating with the falconer. A thousand year old tradition, in which the Kingdom of Denmark had also played an important part, had now become alive again, and came to make its marks in the environmental debate of our time.
NEW ENVIRONMENTAL AND CULTURAL CENTRE FOR BIRDS OF PREY
Eagleworld's program will in the future be more visible by establishing Scandinavian Environmental and Cultural Centre for Birds of Prey, so there will be no doubt that Eagleworld first and foremost is a nature historical centre where professional falconers on a daily basis show a broad and active engagement with the world's most beautiful birds of prey.
Eagleworld has long since made its name internationally established both in terms of unique breeding results with birds of prey, but also for having promoted the art of falconry.
Eagleworld is known for its high international standard where the birds of prey can thrive and breed in close contact with humans. But you can always enjoy the sight of free-flying birds in the beautiful dune landscape at Eagleworld. As the only place in the world the audience can experience to see up to 5 white tailed eagles in the air at the same time and several peregrine falcons, which compete to show their amazing flying skills. But the audience can also see the impressive golden eagle with a wingspan of 2.5 metres as it flies close by to land on Frank Wenzel's outstretched arm.
Eagleworld is now strong and solid and the number of visitors has passed one million a long time ago. There is no doubt about the entitlement and need to give the audience the opportunity to come close to the shy birds of prey and in that way establish knowledge and the needed respect for nature.
Spring will offer a special new attraction at Eagleworld. That is the presentation of the Icelandic and Greenlandic gyrfalcon, which is the true royal falcon with a long history in Denmark. In the oldest source we know from Greenland, THE KING'S MIRROR from 1220, the gyrfalcon is the only bird that is mentioned and described to be a great asset for the country.
The occasion to show the beautiful falcon is not randomly chosen. It is 40 years sine Frank Wenzel recreated the falconer culture in Denmark and it is Eagleworld's upcoming 25th anniversary and besides it is at the same time as spring's royal wedding where the kingdom's history and culture will be in focus.
Frank Wenzel initiates as the first in Scandinavia falconry in Denmark after a 200-year break, Here we can see Frank Wenzel in a historical moment at the first hunt with falcons in 200 years with one of the two saker falcons at Gribskov in 1962.

Facts
Frank Wenzel (b 16/11/1938), falconer and photographer, became interested in birds of prey at the age of 14. It led to him publishing his first book in 1957, The Common Buzzard Nest in the Forest, Gyldendal 1957, where the text is written by himself and illustrated with his own photos. Even before his time as a photographer student at Berlingske Tidende was ended the 19-year-old Wenzel was assigned to the task of illustrating that time's most comprehensive work, Scandinavian birds in colours.
As the main photographer on this work he took more than 600 pictures of all of Scandinavia's birds. With tireless energy he has so far published and illustrated 11 books and produced a similar number of short films to the joy of people interested in nature. In 1966 the film The Cuckoo was film of the year at the European Council's film festival in Venice. Most of the books and films have been used extensively in the country's schools.
Frank Wenzel's great love for birds of prey and some help from the Saudi royal family led to the opening of Eagleworld in Skagen in 1980. At Eagleworld he has, together with his wife, Irene, met his innermost desire to inform about birds of prey, tell about their extraordinary life and behaviour and, not least, show the ancient falconer culture.
At Eagleworld the audience learns that to admire and understand the birds of prey is the most important way to protect the birds in their natural habitat. Eagleworld has become one of North Jutland's greatest attractions. More than 50.000 guests visit Eagleworld every year. Frank Wenzel has now planned to make Eagleworld a Scandinavian environmental and cultural centre for birds of prey.