TIBETAN DRAGON IN EAGLEWORLD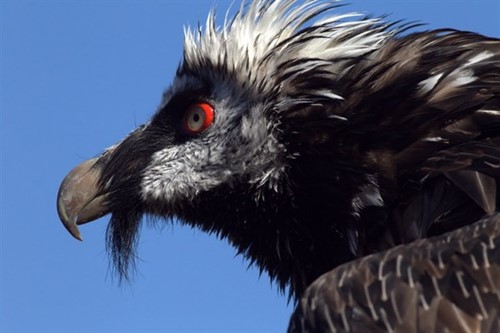 TIBETAN DRAGON IN EAGLEWORLD
Tibetan dragon
By Mette Kirstine Goddiksen
It was like a dream as a bearded vulture broke skies over Eagleworld with its dragon-like shape. Frank Wenzel could barely believe his eyes.
It was an incredible experience. I have always been very fascinated by the bearded vulture and the Tibetan culture, which it is a part of. But I had never imagined in my wildest dreams that I would see one here in Eagleworld.
The bearded vulture normally lives in very mountainous areas - especially in the Himalayan Mountains. It is a very unusual guest in Scandinavia - in fact it takes a hundred years between each visit. Coincidentally the Swedish ornithologists were in Eagleworld to witness the unusual and extraordinary event. In the beginning everybody was in a state of shock. Then the ornithologist got busy spreading the unusual news to their peers.
- And I promise you they were busy texting and phoning home to Sweden, says Frank.
White-tailed Eagle became small
Even for ordinary people it was a mighty sight and an experience of a lifetime when the vulture came flying beside a white-tailed eagle which suddenly seemed small compared to the vulture with a wingspan of up to three and a half meters. And its size is not the only thing that has given it its nickname "The flying dragon of the Himalayas".
- It has a unique charisma. It has got a red ring around its iris, so it looks like fire comes out of its eyes. And it has a goatee, an enormous wingspan, bristling feathers and a long, scary beak, describes Frank.
A sign
The bearded vulture flew around with the other birds of prey at Eagleworld for a couple of hours. Then it continued its journey south. Frank explains the visit at Eagleworld with that the bearded vulture was attracted to and felt secure among the other birds of prey. But the visit has made an indelible impression on him. Frank saw it as a sign.
- I thought that now I should have a bearded vulture at Eagleworld. Already when I was a student photographer, I admired Inger Illum's beautiful photographs of bearded vultures in the rocky nests, taken on Himalayan mountain slopes, he tells.

Dragon over North Jutland
Fortunately, Frank has got some contacts that he knew had access to the few bearded vultures that breed in Europe. So two years ago Eagleworld got its bearded vulture named "Barbarus" - and he has settled in well, even though life in Denmark may be challenging for a Tibetan dragon.
- He is built for a life in the mountains and has got a flying style, which is adjusted to the rising winds in the mountains. It can be difficult for him to turn, but he learns gradually with my help to succeed in the relatively flat landscape. And he now feels so safe in my presence that he rubs his goatee at the glove, says Frank.
Which is pretty lucky.
Now we don't have to wait for a hundred years to get close to the terrifying and fascinating bird of prey: The dragon has landed at Eagleworld.